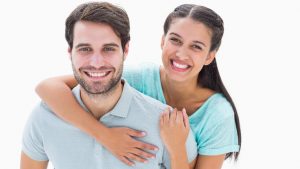 Cosmetic dentistry procedures are a great option for patients who are looking for aesthetic improvements to their smile! Many cosmetic procedures also improve the strength and overall health of your mouth, and our team offers a wide selection of treatments to help our patients with unique needs. Our treatment options for cosmetic dentistry include:
Porcelain veneers: Veneers are thin, porcelain shells that are custom fit to your teeth. A veneer is a great option for discolored teeth, or teeth that have chipped or broken, but do not need full replacement. It's also a great option to fill gaps in teeth, or to reshape an odd tooth.
Bonding: Dental bonding involves attaching a tooth-colored resin to your affected teeth. This is a great option for patients with smaller flaws on their teeth.
Teeth whitening: Professional teeth whitening is safer and more effective than over the counter options. Your dentist will be able to work with you to determine your goal shade, and will provide custom whitening trays to get your smile brighter!
Dental Implants: Dental implants are another popular treatment for cosmetic dentistry. If you have a severely damaged or decayed tooth, replacement is likely the next step. Dental implants involve a titanium post that is implanted to your jaw, and a natural looking and feeling crown. This is one of the strongest and most comfortable options available for tooth replacement today.
Tooth-colored fillings: Instead of traditional metal cavity fillings, today we offer composite fillings, which offer a natural, tooth-colored look. This is often a more aesthetically pleasing option for our patients.
Your smile is your first impression to new people you meet, and it's something you should feel comfortable with and be proud of! At Turnagain Dental, we offer a wide array of cosmetic dentistry treatments to help each patient get the smile they've always wanted. Our dentist will consult with you to determine the best procedures to meet your needs both for your smile, and for your budget!
Cosmetic Dentistry Anchorage AK
If you have any questions about cosmetic dentistry, or if you'd like to talk to our dentist to determine if cosmetic dentistry services are right for you, give us a call today! We look forward to helping you get started towards a smile that you love!