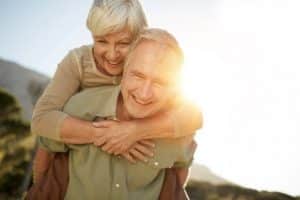 Replacing a tooth is critical to restoring confidence, an attractive smile and full chewing function. Today you have many options in tooth replacements, and Dr. Kennedy of Turnagain Dental encourages you to explore your dental implant options.
A dental implant is a tooth replacement that recreates the entire structure of a tooth, including its root. The implant's post is surgically placed in the jawbone and behaves exactly like a natural tooth root. It is mounted with a beautiful artificial tooth that is designed to blend in with the surrounding natural teeth.
If you are interested in replacing one or more missing teeth with dental implants, please book a consultation with Dr. Kennedy today.
Benefits of Dental Implants
Compared to other tooth replacements, dental implants have many noteworthy benefits.
Preserve the jawbone – Since the implant post is placed in the jawbone, it provides the stimulation the bone needs to thrive. Without this stimulation, the jawbone deteriorates, which can cause remaining teeth in the mouth to loosen and fall out.
Preserve a normal facial appearance – A face without teeth can start to collapse and look very sunken-in and hollow. The mouth can start to look shriveled and the face can look a decade older than it is. Implants help to preserve a normal facial appearance.
Do not rely on the surrounding teeth for support – Unlike dental bridges, implants do not rely on the surrounding teeth for strength or support. The adjacent teeth do not need to be reshaped or modified in any way when an implant is placed.
Can replace a single tooth, multiple teeth or an entire mouth of teeth – Implants are very versatile. The posts can support individual crowns, a bridge prosthetic or even a set of dentures.
Strong and durable – Because implants are anchored in the jawbone and constructed from very strong materials, they are extremely durable and long-lasting.
Very high success rate – Implants have an extremely high success rate (between 90 and 100 percent, depending on where in the mouth they are placed).
Support normal chewing function – Implants allow you to enjoy all of your favorite foods, including crunchy, chewy or tough foods, without slipping or shifting around in the mouth.
Increased self-confidence – Patients with implants enjoy the self-confidence and great quality of life that comes with having a complete set of attractive teeth.
The Dental Implant Placement Process
The process to place a dental implant usually requires multiple appointments spaced over a period of several months.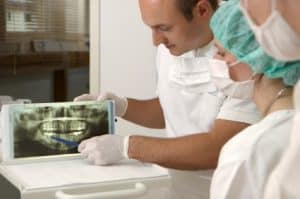 Prior to starting treatment, Dr. Kennedy performs a thorough examination and takes X-rays to get a closer look at the condition of the jawbone. He uses this information to recommend a suitable course of action. If the jawbone is weak or insufficient, Dr. Kennedy may recommend bone grafting to build up the bone before proceeding with implant placement.
The first step of implant placement is to surgically place the implant's post, which might resemble a small rod or screw, into the jawbone. An opening is made in the jawbone underneath the gap left by the missing tooth, and the post is placed.
The post is then left to heal for several months. During this period of time, known as osseointegration, the post becomes part of the bone's actual anatomy. A provisional crown may be placed over the post so the patient does not need to go without a tooth.
Once the post has healed, the provisional crown is removed and a customized crown is affixed to the top of the post. The crown should blend in seamlessly with the surrounding teeth in size, shape and color.
If a cluster of teeth or an entire arch of teeth needs to be replaced, several implant posts may be placed throughout the jaw to support a dental bridge or a denture appliance.
Implants can be brushed and flossed in the same manner as natural teeth. They should be checked by Dr. Kennedy every six months to ensure proper form and function. With the appropriate care and maintenance, implants can last indefinitely. Some patients enjoy their implants for a lifetime.
What to Expect During Recovery
Most dental implant patients experience very little discomfort after their procedure. In fact, they often don't have to take time off from work to recover. However, other patients, specifically those that undergo more complex dental implant procedures (e.g., tooth extraction or bone grafting) may experience discomfort in the form of mild swelling, bruising of the gums, soreness and minor bleeding. These side effects are temporary and should subside two to three days after surgery. Dr. Kennedy will provide you with more detailed instructions to follow during recovery.
Dental Implant FAQs
What are dental implants made of?
Dental implants are posts or screws that are made of biocompatible titanium. They are surgically inserted into the jawbone to anchor an artificial tooth (a crown, bridge or denture). The titanium post is highly durable as it cannot decay like a natural tooth root.
Does dental implant surgery hurt?
Surgery does not hurt as anesthesia is administered to ensure patient comfort.
Why are dental implants better than bridges or dentures?
Dental implants are considered to be the most long-lasting solution to missing teeth thanks to the stability they provide. Because dental implants are directly placed into the jawbone, they are more reliable and stronger than other dental restorations like bridges and dentures. Dental implants will not shift around like dentures, giving you the ability to smile, speak and chew without any worry that your artificial teeth will slip out of the mouth. In addition, dental implants keep the jawbone stimulated, preventing the bone from deteriorating and the facial structures from collapsing.
Keep in mind that dental implants are not right for everyone. Dr. Kennedy will evaluate your candidacy as well as review your dental needs and goals in detail before recommending implants or another treatment option.
How long will my dental implant last?
Dental implants can last for many years, possibly even a lifetime. However, just because implants are long-lasting does not mean that all patients enjoy the same results. There are several factors that affect how long your dental implant will last, including the following:
The dentist that places the dental implant – a skilled and experienced dentist is knowledgeable on the techniques and tools needed for precise implant placement.
Location of the dental implant – dental implants placed in the back of the mouth tend to fail more quickly than those placed in the front of the mouth
Oral hygiene – poor oral hygiene can lead to gum disease, a leading cause of tooth loss.
Lifestyle habits – this includes diet and smoking (smoking is a leading cause of implant failure)
Preexisting medical conditions – rheumatoid arthritis, diabetes and other health conditions increase the risk of implant failure
How much do dental implants cost?
Dental implants vary in price depending on the number needed, the materials used, whether a tooth extraction is needed and the location of the implant. Depending on the details of your dental plan, a portion or the full cost of your implant procedure may be covered. Dr. Kennedy offers affordable dental implant financing with CareCredit to our patients. For specific pricing, please contact our office today.
Learn More about Dental Implants
For more information about dental implants, please contact Turnagain Dental and request an appointment with Dr. Kennedy.