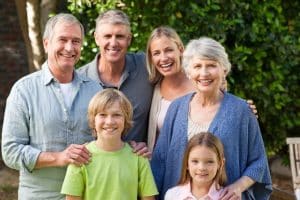 If you are a parent, you understand the value of finding a dentist that can treat your entire family under one roof. As adults, you and your spouse have very different needs than your kids. And as your kids grow up, their needs change, too. If you're also caring for aging parents, they have unique needs that require skilled dental care as well.
It is hard to block out time to book separate appointments at different dental offices in different parts of town. Finding a family dentist that cares for patients of all ages is a huge time-saver.
Dr. Kennedy of Turnagain Dental is Anchorage's family dentist of choice. He is knowledgeable about dental issues affecting every stage of life, so he can keep your entire family smiling for years to come. He can handle your baby's first dental visit, counsel your teen about orthodontic options and crown your teeth that have suffered damage or decay — all with the same warm and caring approach. Think of Turnagain Dental as a one-stop shop for all of your dental needs.
Instilling Confidence and Comfort in Children
Children should see Dr. Kennedy regularly for check-ups and basic dental services. Regular visits instill confidence and comfort and help children develop positive associations with dentists and dental care.
Common services in the younger years include exams and cleanings, fluoride treatments and the placement of sealants.
Dr. Kennedy is very gentle and patient with his littlest patients. He also works closely with parents, giving them the tools they need to guide their kids' oral hygiene practices.
Addressing the Dental Needs of Teenagers
As children get older and enter the adolescent and teenage years, their dental needs evolve. They still need to see Dr. Kennedy every six months for basic exams and cleanings. But many adolescents and teens also express interest in orthodontic treatment to fix crooked or crowded teeth, as aesthetics become more important. Cavities are also common in this age group, due to increased sugar and soda consumption.
In addition to exploring orthodontic treatment options, Dr. Kennedy encourages teens to practice healthy at-home hygiene habits, limit sugar consumption and make good dietary choices. With his guidance, teenage patients can reduce their risk of tooth decay, gum disease and other dental problems.
Comprehensive Cosmetic and Restorative Dentistry Solutions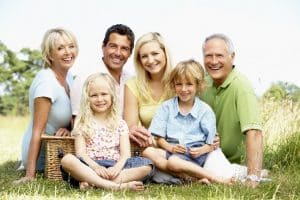 Dr. Kennedy offers comprehensive cosmetic and restorative dentistry services for adults to maintain optimal oral health and appearance. He can recommend cosmetic dentistry options to beautify an imperfect or dull smile, or restorative dentistry treatments to repair areas of damage or decay. Dr. Kennedy can also replace missing teeth with strong, attractive restorations.
Adults should continue to have regular dental check-ups and exams in order to catch problems in their early stages, before they become more difficult to treat.
Family Dentistry FAQs
At what age should my child first visit the dentist?
According to the American Dental Association, a child should have their first dental visit within six months of their first tooth erupting but no later than their first birthday.
What should I expect during my baby's first dental visit?
Your baby's first dental visit will be gentle, relaxed yet thorough. Dr. Kennedy will conduct a physical examination of your baby's gums and any teeth present. He and our team will also go over with you the proper way to clean your baby's mouth at home.
How often should my child visit the dentist?
After their first dental appointment, your child should visit the dentist every six months for a routine dental exam and professional cleaning.
How often should I visit the dentist?
Adults should also visit the dentist every six months for routine dental exams and professional cleanings.
I'm not experiencing any pain or symptoms. Can I skip my routine checkup?
Many dental problems do not exhibit any visible symptoms in their early stages and can only be caught by a dentist. For this reason, it's imperative that you and your family keep all routine dental checkups. Doing so helps avoid dental problems, not to mention costly and invasive dental treatments!
How can I help my child avoid cavities?
Regular dental exams and cleanings, paired with good oral hygiene habits at home can lessen your child's risk of developing cavities. In fact, the research has shown that parents with cavities can pass those harmful bacteria on to their babies and children, putting them at higher risk for cavities. During your child's visit, our team will review with you and your child the proper brushing and flossing technique, as well as answer any questions you may have. Mom and Dad's dental care is important in keeping children cavity-free!
Dr. Kennedy offers an array of preventative dental services that can help you and your child stay cavity-free. Dental sealants, which are plastic coatings placed over the back teeth (the molars), are commonly used on children but can also be used on adults. Fluoride treatments at the time of a routine dental checkup are also available and can help reduce the risk of cavities.
Who should wear a mouth guard?
Children and adults who play contact sports (e.g., football, hockey, soccer) or participate in other recreational activities should wear a mouth guard. Mouth guards play a critical role in protecting the gums, jaw and teeth from serious injury. Although mouth guards are available at stores and pharmacies, we recommend getting a custom-made mouth guard from Dr. Kennedy. Using an impression of the mouth, Dr. Kennedy is able to create a mouth guard that will fit securely yet comfortably in your mouth.
Dr. Kennedy also offers custom-made mouth guards for individuals who experience symptoms of temporomandibular joint disorder such as jaw pain and tenderness.
Who can I contact if a family member is experiencing a dental emergency?
If you or a loved one is experiencing a dental emergency, contact our office immediately. Our team will see you as soon as we can and walk you through the steps you should take while you wait medical attention.
What are my payment options?
We see patients with all insurance plans and will gladly help you navigate the details of your plan so you can maximize your benefits. We are also proud to offer an array of payment options, including cash, check, Visa, MasterCard and financing options via CareCredit. We will work closely with you to help you find the right solution for your financial situation.
Schedule an Appointment at Turnagain Dental
Dr. Kennedy and our team at Turnagain Dental are here to take care of your family's dental needs at every stage of life. To make an appointment for any member of your family, please call or email our dental office today.