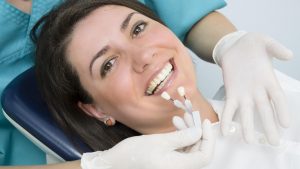 There are many issues that can lead to someone having a less attractive or imperfect smile, from discoloration to missing teeth. Fortunately, there are also several cosmetic dentistry treatments that can repair these issues. At Turnagain Dental, we will go over your concerns and expectations in order to come up with a customized treatment plan that will give you the smile you have always wanted.
Common Cosmetic Issues
Discoloration – The most common complaint people have about their smile is that it is discolored and dull. In-office teeth whitening procedures can help remove stains deep within the enamel to give you a whiter, younger looking smile. For really stubborn stains that do not react to whitening treatments, you can also choose composite bonding or veneers to cover severely discolored teeth.
Chips, cracks, and gaps – Though minor, these imperfections can still cause people to be self-conscious of their smile. Composite bonding is a great way to fill in and cover these issues and to reshape teeth. The composite resin used is tooth-colored and strong to give you natural looking and long lasting results. For more severe chips, cracks, and gaps, veneers may be a better option. Veneers are a thin, tooth-colored, cap that is attached to the front of the tooth and can completely change the and enhance the look of your smile.
Broken and missing teeth – Breaking or losing a tooth can not only make your smile less aesthetically appealing, but it can also be detrimental to your oral health. Crowns can be used to cover a broken tooth, or, when attached to a dental implant or bridge, can completely replace it. They are similar to veneers, but instead of covering only the front of the tooth, they fit on top of the entire tooth to protect it and make it more functional.
Is Cosmetic Dentistry Right for You?
With cosmetic dentistry, we can help those in the Anchorage, AK area that are not happy with their smile to obtain a more functional and beautiful smile. If you would like to learn more about the cosmetic dentistry services we provide, or to schedule a consultation, please contact Turnagain Dental at your earliest convenience.